CZ series
| | |
| --- | --- |
| CZ series | Compact size, giant performance |

High speed 130ppm output
With a print speed of 130 pages per minute you can make short work of the largest job: a 500 sheets print run takes less than four minutes to finish, so you can print tests for a whole school or fliers for an announcement campaign in an incredibly short time.

A3 scanning and A3 paper path*

Although the maximum print area is B4, you can scan A3 originals for reduction to B4 size. Better still, since the paper path handles A3 paper, you can print on A3 or non-standard paper sizes larger than B4.


*

CZ100

Paper Path: B4 / Printing Area: A4
Auto document feeder (ADF)
The ADF has a capacity of ten sheets and works in conjunction with program print to give you unprecedented versatility. For example, if you are printing different materials for several classes, each with different numbers of students, you simply set your originals, program the number of copies for each one, and press print to automatically get your desired number of copies for each of the different originals.
Auto base control
Auto base control automatically compensates for newspaper originals or originals made on recycled paper, removing the background greyness so your output always has a clear, white background.
1,000 sheet capacity
The paper feed tray holds up to 1,000 sheets (depending on paper weight) to allow long, uninterrupted print runs.

Convenient access, easy print drum swap
The large slide-out front panel gives convenient access for both swapping the print drum or in the rare event of a paper jam. As part of RISO's "clean hands" policy, the print drum pulls out like a drawer allowing anybody to quickly and easily remove and replace it with one of a different color.

Easy ink and master setting
Setting ink and masters is little more than a one-touch operation: simply insert the ink bottle and twist into place, or replace the master roll, close the lever and insert the master sheet into the feed area.

Disposal box
The disposal box holds up to thirty used masters, ready for you to throw them away whenever it's convenient.
5 color variations
It's quick and easy to swap out the print drum, and the CZ180/100 offers you a choice of five colors to select from to best match your print job.

Simple connectivity
Single cable-connection makes it quick and easy to connect the CZ180/100 to your PC. This lets you send data directly from your computer to the printer, eliminating the intermediate scanning step. An optional network card lets you add the printer to your network.

CZ180 Operation Panel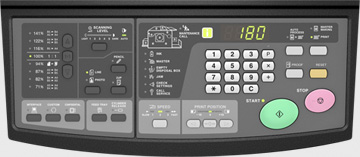 Intuitive operation
Dedicated buttons, divided into primary and secondary control areas, give intuitive, no-miss operation.
Line/photo/duo/pencil
Four scanning modes to best suit your original. Line is for text-only documents, photo is optimized for photos or illustrations, duo gives the best results with documents that are a mix of photos and text, while pencil is for illustrations drawn in pencil.


Program print
Six memories work with the ADF to let you set up program printing. For example, you could be printing tests for three different classes, with 25 students in the first class, 20 in the second and 15 in the third. Simply set up the program, place the three original tests in the ADF and press print-you'll get your desired number of each individual test, automatically.
2 up / 2 in 1 printing
2 up lets you print two copies of a single original side-by-side on one sheet of paper, while 2 in 1 lets you print two different originals side-by-side on a single sheet.


Enlargement/reduction
Enlarge or reduce your original as you require. Choose from 141%, 122% and 116% for enlargement or 71%, 82%, 87% and 94% for reduction.

The RISO i Quality systemTM offers a large number of quality and convenience benefits.
Among them are:
| | |
| --- | --- |
| – | Automatic assurance of optimum print quality. |
| – | Prevention of operator error. |
| – | Warning of shortages in remaining ink/master volume. |
| – | Minimized paper waste. |
CZ180
CZ100
Master-Making / Printing Methods
High-speed digital master-making / fully automatic printing
Original Type
Sheets ADF: 10 sheets (64g/m²)
Original Size
90mm × 140mm – 310mm × 435mm
Original Paper Weight
50g/m² – 107g/m²
Scanning Area (max.)
297mm × 435mm
Print Paper Size
100mm × 148mm – 297mm × 420mm
100mm × 148mm – 257mm × 364mm
Paper Feeding Tray Capacity
1000 sheets (64g/m²)
Print Paper Weight
50g/m² – 157g/m²
Image Processing Mode
Line, Photo, Duo, Pencil
Resolution
Scanning resolution: 300dpi x 300dpi
Print image resolution: 300dpi x 300dpi
Master-making Time
Approx. 37 seconds (A4 / Portrait / 100% reproduction ratio)
Printing Area
(max.)
251mm × 357mm
210mm × 290mm
Print Reproduction Ratio
Enlargement: 141%, 122%, 116%
Reduction: 71%, 82%, 87%, 94%
Print Speed
60ppm, 90ppm, 130ppm
Print Position Adjustment
Vertical: ±10mm, Horizontal : ±10mm
Ink Supply
Fully automatic (800 ml per cartridge)
Master Supply / Disposal
Fully automatic (Approx. 200 sheets per roll)
Fully automatic (Approx. 235 sheets per roll)
Master Disposal Box Capacity
Approx. 30 sheets
Features
2up / 2 in 1, ADF semi-auto, Auto-process, Confidential, Custom mode, Program print, Proof copy, Reservation, Scanning level adjustment, RISO i Quality System
Accessories
RISORINC3n, RISORINC-NET, Job separator, CZ Drum B4
RISORINC3n, RISORINC-NET, Job separator, CZ Drum A4
Consumables
RISOMASTER CZ type 13, RISO INK CZ type
RISO MASTER CZ type 10, RISO INK CZ type
Sound Level
71dB(A) (130ppm at operating position)
Power Source
100V – 120V <2.0A> / 220V – 240V <1.0A>, 50 / 60Hz
Power Consumption
Max: 200W, Stand by: 15W (with full accessories)
Dimensions (W×D×H)
When in use: 1280mm × 655mm × 515mm
When in storage: 660mm × 655mm × 505mm
Weight
Approx. 62kg
*Specifications are subject to change without notice.
*Details may vary depending on the region.