MZ series
MZ 10 series
Full 600dpi resolution for superbly fine details

One pass, two colors, powerful results
Adding a second color gives every one of your documents extra impact and immediacy. MZ series printers offer you all that extra power at just a single pass, letting you enjoy ease and convenience as you give your documents a professionally-finished look.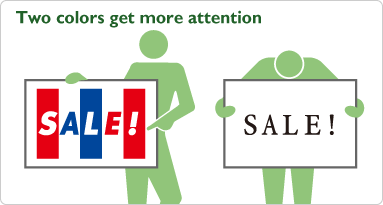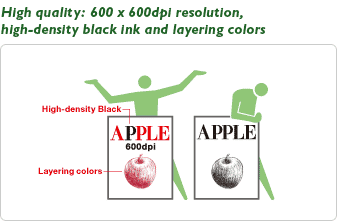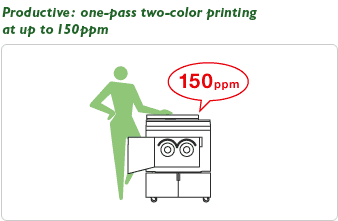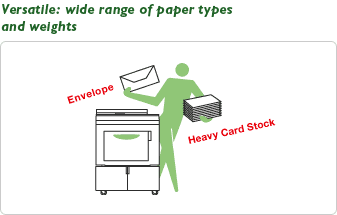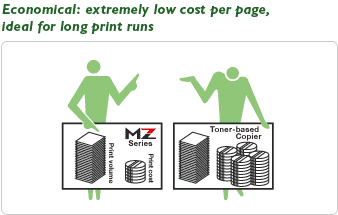 Wide-ranging applications
It's hard to imagine a document that doesn't look better in two colors. Advertising fliers and leaflets, announcements, newsletters, tickets, business applications such as letterheads, reports and name cards, lesson materials, invitations, coupons...the list just goes on and on. If you can print it, it's sure to look better with a second color.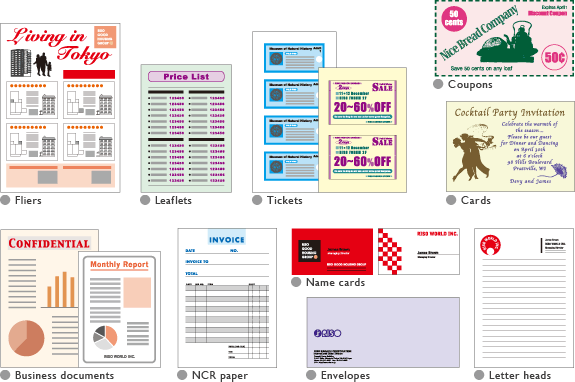 Smart, easy and versatile – two-color printing the way you want it
RISO MZ series printers make two-color printing quick and easy, thanks to an advanced printer driver that virtually does the job for you.
Of course, you also enjoy manual control for those times when you want something the printer driver doesn't do for you automatically. And PC connectivity lets you use software you already know to create your originals, so you're always in familiar territory. There's no faster or easier way to carry out two-color printing than RISO MZ series printers.
Connection with a computer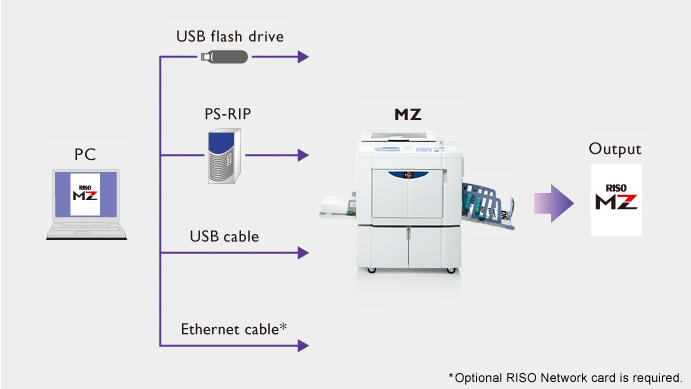 Data from a PC
| | |
| --- | --- |
| For users who create originals on a PC, the included printer driver software automatically handles color separation when the data is sent to the printer. Layering color printing is also available. | |
Color separationpadding
Color separation couldn't be simpler - just use the auto separation function in the printer driver and the job's done, with colors separated to match the print drums loaded in the printer. For example, if you have red and black drums, red and black tones in your image will be separated and sent to the respective drum, with other colors tones set to layering between red and black.

If you want more precise control, there's a manual mode that lets you specify individual colors for text/line art and photos on your original data and print with whichever drum you like.


Combination print allows you to do split print runs of documents such as school tests with the first half of the run showing only the questions in, for example, black and the second half of the print run showing questions in black and the answers in red.

You can even use color separation data from drawing and other applications.

You can preview the results of color separation on your PC monitor before you print to be sure the actual results will be exactly what you want. If you're not satisfied with the displayed separation, you can edit it by specifying precise areas and changing the color as you wish.
USB print
| | |
| --- | --- |
| Even if your MZ series printer is not connected to your PC or network, you can still print directly from your data file. Just save the file through the printer driver to a USB flash drive, connect the flash drive to the printer via the built-in USB port, and you're ready to print. | |
Network connectivity
| | |
| --- | --- |
| An optional network card offers ethernet connection via your LAN giving you bi-directional communication with the printer. And this means you can remotely monitor the printer's status such as the progress of a print job, color of loaded ink drums, and remaining paper, master and ink quantities. | |
MZ 1070 Operation Panel

Enjoy clear, at-a-glance viewing of functions – and even a preview of how your printed document will look – with the large touchpanel screen. Thanks to logical grouping of functions, you simply step through the menus until you reach your desired operation.
What's more, you can customize the panel layout and even place your most-frequently used functions on the top screen.
Lightweight, front loading print drums

Swapping a print drum for one of a different color is easier than ever thanks to the front loading design and lightweighting of the print drums.
Easy ink setting

Front panel access makes changing the ink bottle quick and easy, too. You simply insert the ink bottle and twist it into place.
Slide-out master unit

The master unit is side-mounted and slides out like a drawer for simple replacement of the master roll: just remove the old roll and drop a fresh one into place.
Easier master-making with "easy 2-color"
The MZ series "easy 2-color" process not only makes it quick and easy to create two-color masters, it also offers you a choice of how to do it so you can select the method you find easiest or the one that's most suitable for your print job.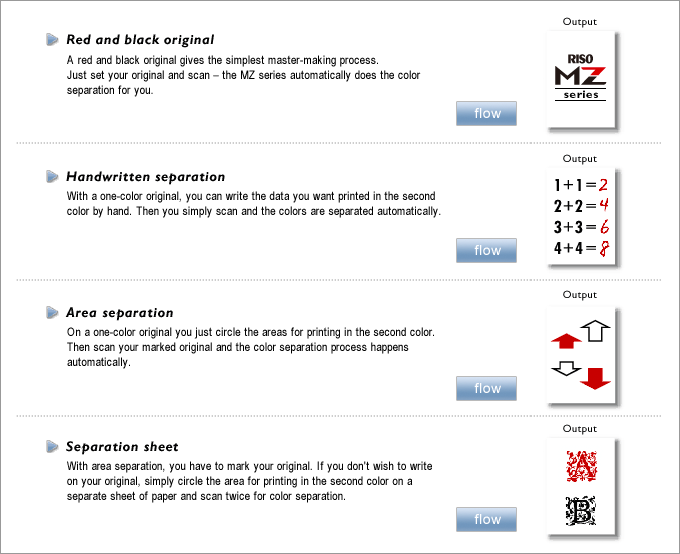 RISO Editor
The RISO Editor lets you directly specify on the
touchpanel which areas should be in which color,
or even move photos, illustrations or blocks of text to
give you precise placement and enhance the
appearance of your finished document.
Preview mode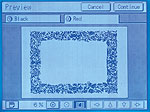 Preview mode shows you exactly how your finished document will look when printed, offering you a final check to ensure it exactly matches your vision.
Line/photo/duo/pencil modes
Select from line, photo, duo or pencil modes. Line mode is best for text-only documents, photo mode is better for photos or illustrations, duo mode gives the best results for documents that are a mix of text and photos, while pencil mode is optimized for illustrations that are drawn in pencil.
A choice of three photo modes



Standard mode is the basic setting designed to give excellent results with the majority of photographs.




Portrait mode is optimized to give clear gradations of skin tones, resulting in superbly lifelike output.




This mode uses a special algorithm to clearly show faces in group photos, so subjects can easily pick themselves out.




Often, illustrations drawn in pencil fail to scan cleanly. Pencil mode is optimized to clearly scan and print such illustrations to assure you of superb results.
Overlay
This function is for one-color printing only, and lets you print letterheads on a document. Just recall the data and it is automatically overlaid on the master along with the scanned document.
Stamp
With Stamp for two-color printing, you can store your most frequently-used stored items on a dedicated page of the touchscreen for immediate access and printing at a single touch.
Note: Optional Document Storage Card DM-128CF is required for Overlay and Stamp functions.
Output reversal
| | |
| --- | --- |
| Normally, finished work is output in the order it is scanned or sent to the printer via your network - all copies of page one are printed first, followed by page two, etc. Sometimes, though, you may want the pages in reverse order, for example if you have an auto collator that will only accept pages that way. Output reversal is the answer, printing the last page sent to the printer first and the first page last. | |
ID print
| | |
| --- | --- |
| If you're printing a confidential document, you want to make sure no unauthorized person sees it, even while it's printing. ID print lets you do this by holding your document in the printer's memory until you come to the machine and input your PIN. Then printing starts and you can stand by the printer to keep prying eyes away from your confidential material. | |
User management
| | |
| --- | --- |
| The user management function lets you monitor the number of prints/masters and set up usage limits for individual users. Users input their PIN number whenever they print, so you always know how much any person has used the printer. You can receive ID counter reports by printing them out, saving the CSV file to a USB flash drive, or if your printer is connected to your network, you can receive ID counter reports via e-mail. | |

The RISO i Quality systemTM offers a large number of quality and convenience benefits.
Among them are:
| | |
| --- | --- |
| – | Automatic assurance of optimum print quality. |
| – | Prevention of operator error. |
| – | Warning of shortages in remaining ink/master volume. |
| – | Minimized paper waste. |
MZ1070
Master-making/Printing methods
High-speed digital master-making / Fully automatic one pass two color stencil printing
Original type
Book, Sheet
Original size
When using the Glass Platen: 50mm x 90mm – 310mm x 432mm
When using the AF-VI:II (option): 100mm x 148mm – 310mm x 432mm
When using the DX-I (option): 105mm x 128mm – 297mm x 432mm
Original paper weight
When using the Glass Platen: 10kg or less
When using the AF-VI:II (option): 50g/m2 – 128g/m2


When using the DX-I (option):
Single sided feeding 40g/m2 – 128g/m2
Double sided feeding 52g/m2 – 105g/m2

Scanning area (max.)
297mm x 432mm
Print paper size (max.)
When using the standard feed tray: 320mm x 432mm
When using the wide stacking tray: 340mm x 555mm
Print paper size (min.)
Dual color print: 182mm x 257mm
Single color print with drum 1: 100mm x 148mm
Single color print with drum 2: 182mm x 257mm
150ppm single print with drum 2: 182mm x 364mm
Paper supply capacity
1000 sheets (64g/m2)
Print paper weight
Standard: 46g/m2 – 210g/m2, When using the Card Feed Kit (option): 100g/m2 – 400g/m2
Image processing mode
Line, Photo (Standard/Portrait/Group), Duo (Line/Photo/Shadow off ),
Pencil (Darker/Lighter)
Resolution
Scanning resolution: 600dpi x 600dpi
Printing image resolution: 600dpi x 600dpi
Master-making time
(for A4/Portrait/100%
reproduction ratio)
Dual color print: Approx. 57 seconds
Single color print with drum 1: Approx. 24 seconds
Single color print with drum 2: Approx. 34 seconds
Printing area (max.)
291mm x 413mm
Print reproduction ratio
Preset enlargements: 163%, 141%, 122%, 116%, Preset reductions: 87%, 82%, 71%, 61%
Zoom: 50% – 200%, Free (individual adjustment of length or width): 50% – 200%,
Margin: 90% – 99%
Print speed
60ppm – 150ppm, Five steps variable from the control panel (60, 80, 100, 110, 120ppm)
150ppm: Selectable from the touch panel
Print position adjustment
Vertical: ±15mm, Horizontal: ±10mm
Functions*1
Auto 90° rotation (B5/A4 size only), RISO Editor, Easy 2 color, Dot process (4 type), Scanning contrast adjustment (Auto/Manual 5 steps), Photo contrast adjustment, Layout, Book shadow, Tone curve adjustment, Program print (A/B), 2UP, Multi-up print, Renew page, Ink saving, Interval, Combination print, Job memory (10 sets), Admin setting, Print density adjustment (Auto/Manual 5 steps), Confidential, Auto-idling, Direct access/Selections entry, Reservation, Storage memory*2, Overlay*2, Stamp*2, Preview, USB flash print, User management, ID print, ID counter report, My direct access, Protect,


RISO i Quality System™

Ink supply
Fully automatic (1000ml per cartridge)
Master supply/Disposal
Fully automatic (approx. 220 sheets per roll)
Master disposal box capacity
Approx. 80 sheets per box
User interface
LCD Touch Panel with Progress Arrow indicators
Input port
USB2.0*3, Ethernet (100BASE-TX, 10BASE-T) *4
Network protocol
TCP/IP *4
Sound level
(100ppm at operating position)
Less than 65dB
Power source
100V – 120V AC, 50Hz – 60Hz, <7.6A>
220V – 240V AC, 50Hz – 60Hz, <3.6A>
Power consumption
100V – 120V Max.: 600W, During stand-by: 53W, During sleep mode: 2W
220V – 240V Max.: 580W, During stand-by: 53W, During sleep mode: 2W
Dimensions (WxDxH) without stand
When in use: 1625mm(W) x 735mm(D) x 740mm(H)
When in storage: 1005mm(W) x 735mm(D) x 740mm(H)
Weight without stand
Approx. 171kg
Specifications are subject to change without notice. Details may vary depending on the region.

*1: Some functions may not be available depending on the printer setting.
*2: Optional Document storage card DM-128CF is required.
*3: Use a commercially available USB cable less than 3m (that conforms to the USB 2.0 standard).
*4: Optional RISO Network card is required for network and Macintosh connection.