RISO Consumables

RISO ink and RISO soy ink are made from vegetable soy oil and meet soy oil content standards specified by the American Soybean Association. RISO was the world's first to develop and commercialize soy ink for digital duplicators.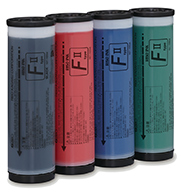 RISO INK ETYPE HG
Efficient recycling
In Japan, RISO collects and recycles used ink bottles. They are recycled and processed into plastic raw material.
Soy oil benefits
Soy ink is easily removed from paper when recycling, resulting in whiter paper as well as water and energy savings. Eco-friendly soy ink is also more biodegradable than other inks.
Ink color variations

RISO offers a wide variety of inks in 21 standard colors, 50 custom colors, plus special order-made colors that can add powerful impact to your documents.
Note: Order-made colors may not be available in soy inks and are not available in HG type inks.

RISO masters offer extremely high quality printing thanks to original RISO technology.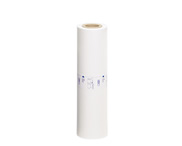 RISO MASTER ETYPE HG