Home > News & Topics > 2019 > RISO to showcase the RISO T1 and RISO T2 at Hunkeler Innovationdays 2019
RISO to showcase the RISO T1 and RISO T2 at Hunkeler Innovationdays 2019
January 25, 2019
RISO will exhibit at Hunkeler Innovationdays 2019, to be held in Luzerne, Switzerland from 25th to 28th February, 2019. The world's leading manufacturers in the industry will present the next generation of high-performance technology for digital printing and finishing.

RISO will showcase two unique inkjet printers developed for transactional printing: the RISO T1 full-color continuous feed inkjet printer and the RISO T2 high-speed full-color cut-sheet inkjet printer.

RISO T1 was first presented at drupa 2016, and RISO has been continuously developing this unique full color continuous feed inkjet printer that features "small footprint" and "excellent operability". The latest version of the RISO T1 will be presented as a concept model. RISO T2 has just been launched, and now available in the key European countries and North America.
Hunkeler Innovationdays 2019
Date: 25th to 28th February, 2019
Venue: Messe Luzerne, Horwerstrasse, CH-6005 Luzerne
Opening hours: 9 a.m. – 5 p.m.
RISO booth: Hall 1, booth B13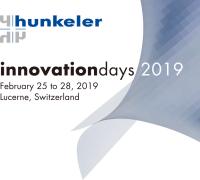 https://www.innovationdays.com/


Features of the RISO T1
Compact full-color printer with excellent operability for continuous roll-paper. Can handle generic sizes of roll-paper, enabling you to use post-processing devices you already own. The RISO T1 lets you expand your printing business with ease.
- Compact size, simple structure, excellent operability, easy self-maintenance
- Printing component measures 1,495 mm (W) X 1,980 mm (D) X 1,720 mm (H)
- Print speed of 42 m / minute, print width of 507 mm, and duplex printing feature realize productivity equivalent to 565 pages of A4 print per minute
- Supports AFP/IPDS, PDF, and PS workflows
Features of the RISO T2
High-speed full-color cut-sheet inkjet printer, offering fast duplex printing.
- Optimum productivity of 320 ppm in duplex
- Affordable, full color, variable data printing
- Supports AFP/IPDS, PDF, and PS workflows