HOME > Creative Manufacturing > R&D and Engineering
R&D and Engineering

Utilizing the unfiltered opinions of our customers to develop products
"Creating fundamentally unique products" has been the unchanging development policy at RISO since our foundation. Besides satisfying customer needs, this means being at the vanguard of identifying new value, which is the other side of customer needs.
For that purpose, along with receiving feedback from the sales side, staff from R&D Departments also directly visit customer locations and attend exhibitions to constantly gather opinions. Furthermore, persons in charge of product design, production technology, production, quality control, logistics and marketing functions come together from the initial stage of development to meticulously consider from diverse perspectives what kind of products are useful to customers.
The benefit of including all departments in the process, from R&D and production to sales
Two key factors have made this approach possible. First, all departments are included in the entire process, from R&D and production to sales, which makes it easier for each department to share challenges encountered in the course of development. Second, RISO has accumulated a wide range of technologies in electrical engineering, mechanical engineering, chemistry and software, possessing core technologies in the fields of ink development, high-speed paper feeding systems and print process optimization. Moreover, another major strength is start-to-finish development of hardware and consumables in-house that enables RISO to elicit maximum performance of our printers in order to provide the highest quality to customers.
Developing "New Value" not available anywhere else in the world
The times have shifted from products to solutions. The era of satisfying customers simply by making a good product is over. Now, there must be a focus on what kind of solutions can be provided by using such products. RISO always keeps in mind what we need to do in order to make products that are of maximum benefit to our customers. With creativity, ingenuity and passion, RISO promotes a wide array of R&D efforts that pursue possibilities in new domains.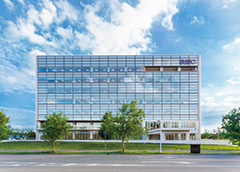 The Riso Research and Design Center was established in June 2013 in Tsukuba city as a new facility to integrate bases.
Accordingly, RISO will strengthen its development initiatives by providing a development environment aimed at nurturing developers to think and express ideas freely. We will also enhance development efficiency by encouraging communication.
The building has been designed taking into consideration safety and business continuity measures in the event of a disaster as well as energy conservation.