Ink development technology
In 1954, the first domestically produced emulsion ink, "RISO Ink," was produced through a process of trial and error. Subsequently, using the techniques and know-how acquired over years of work, many methods have been applied to achieve one of the characteristics of RISO's printers: speed.
Here, we will introduce various aspects of this ink.
For ComColor (Inkjet Printer)
An original oil-based pigment ink specially designed for high-speed color printing.
ComColor is a high-speed full color printer that uses inkjet technology primarily designed for industrial applications. It discharges ink droplets from a nozzle onto the paper supplied at high speed to perform rapid printing at a low cost. This epoch-making printer shatters the idea that color printing must be expensive and time-consuming, and can perform this task at a cost comparable to that of monochrome printing.
ComColor uses an original oil-based pigment ink. This ink is reliable and water resistant, and so it is well-suited to high-speed printing. Oil-based inks are composed of pigment, oil, dispersant, and additional agents, among other things. In order to improve color performance, microparticles are used as dispersion agents for the pigment. This balance of pigment, oil, dispersant and additional agents is designed to maximize color performance.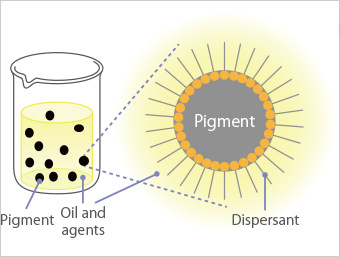 Content of oil-based pigment ink
Maximizing the performance of oil-based inks
Most office inkjet printers use water-based inks. But ComColor uses an original oil-based ink.
Optimal for high-speed printing. That's the main reason we choose oil-based ink.
When water-based inks are used, the paper absorbs water immediately after printing. Paper that has absorbed water can easily change shape and bend, which can often lead to folds and wrinkles in high-speed printing. Since no change in paper quality or form occurs with oil-based inks, the paper feeding process is smooth, which makes such inks suitable for high-speed printing. This results in increased reliability in post-processing printing tasks such as sorting, collating and binding.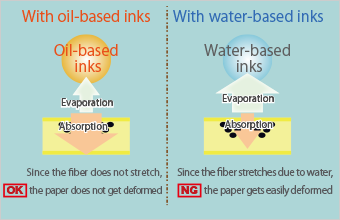 Performance differences in water-based and oil-based inks
Improves printing density, achieving a stable printing environment
RISO has developed its oil-based pigment ink in consideration of ink absorption.Printing density is improved by optimizing ink absorption by using carefully selected oils and the perfect balance of pigment and dispersant. Duplex printing is achieved by controlling ink absorption.
Furthermore, the use of stable oil-based ink reduces ink deterioration, which in turn means that the ink nozzles require less cleaning, resulting in reduced printer downtime.
Oil-based ink enabling the world's fastest printing
After long trials and diligent effort, RISO perfected an original ink for the ComColor. Since it began selling in 2003, the ink has continued to redefine the world's fastest printing* as an office printer, opening up a new marketplace.
The ability to print in color at a low cost is one attractive feature of the ComColor. The unique ComColor color profile "ComColor Standard" uses information about the color of the paper and the data to optimize the quantity of ink used to print. This ability to avoid waste and efficiently use ink allows color printing at a low cost.
*

Available on ComColor GL9730. A4 long-edge feed, simplex, continuous printing in standard density setting, and using the Face Down Tray. Based on office color printers commercially available as of September 2021 (Source: Data Supply Inc.)
For RISOGRAPH (Digital Duplicator)
Emulsion ink for quick-drying and high-quality images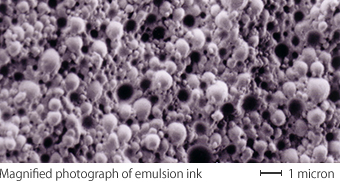 RISOGRAPH is a digital duplicator that utilizes Digital Duplicator technology, as found in mimeographs. Digital Duplicator is a type of printing technology in which perforation are made in the master that is the basis for printing (via a master-making process), and then ink is pressed through the holes to transfer an image on the paper. This technology is optimal for high-speed and high-volume printing of the same original.
The RISOGRAPH uses an emulsion ink comprised of a mix of oil and water bases. Emulsion is a process in which an emulsifier is used to combine two incompatible substances by dispersing one throughout the other and preserving the result in a stable state. Some familiar examples include mayonnaise, butter, milk, acrylic paint, wood glue, and latex. The ink used by the RISOGRAPH is a water-in-oil emulsion, wherein water is dispersed in oil like butter.
The photograph shows emulsion ink under an electron microscope. Many minute particles of water can be observed within the oil. Pigment and surfactant is added to the combination of water and oil to yield emulsion ink.
The optimal mixing ratio of oil and water is carefully determined to enable stable storage in print drums while printing is not taking place, and to provide maximum image quality together with quick drying.
One other advantage of emulsion ink is that it is less sensitive to changes in temperature or other environmental aspects.
Maximizing the benefits of emulsion ink
A variety of strategies were required to develop the perfect emulsion ink for the RISOGRAPH.
An ink that does not dry out inside the printer, yet dries quickly after printing
In the RISOGRAPH printer, the master used for printing is wrapped around the print drum. Printing takes place by applying pressure to the paper passing through the printer with a press roller as the drum is rotated.
When no printing is done, water can evaporate from the ink remaining in the print drum, resulting in deteriorating ink quality. This deterioration may lead to problems such as faint print.
The emulsion ink used by the RISOGRAPH has been developed to keep the deterioration of the ink to a minimum, so it can recover functionality and be able to print when needed.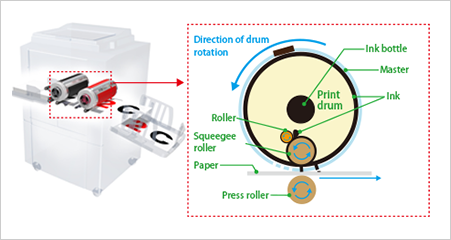 Printing mechanism
Quick absorption into the paper, giving beautiful printed images
Immediately after printing, the oil and water in the emulsion ink begin to separate. The only part that remains within the paper is a portion of the oil and the pigment. The optimization of the oil, water and pigment balance, together with optimal conditions allows high-quality and dense printing, minimizing bleeding or smearing.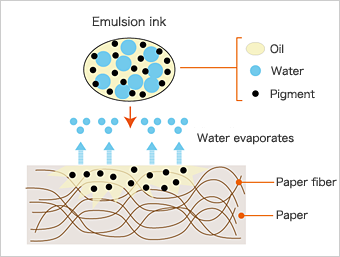 Emulsion ink setting process
Rice Bran Oil Ink, Made from Japanese Rice Bran Oil, Expanded to 22 Colors
RISO's efforts to minimize its impact on the environment extend to the ink used in digital duplicators. With the idea of using rice bran oil ink made from rice bran oil, we created rice ink, a consistent-quality ink that marks a world first for office printers.
Since the ink is made from Japanese rice bran, compared to soy ink made from imported raw materials, we reduced CO2 emissions during raw material transport by 87% (2016 data).
In addition, the raw material rice bran can subsequently be reused, which contributes to waste reduction. Non-edible rice bran (a by-product of rice production) is the raw material for this ink, so using it to make ink means we do not aggravate the problem of food shortage.
When we first started selling rice bran oil ink, it came in only black, but as of 2017 we offer it in 22 colors. We can also provide it in made-to-order colors based on customer requests, thus contributing to their own efforts to protect the environment.

Provided in various colors including gold and fluorescent colors
RISOGRAPH digital duplicators are undergoing advancements in speed, high-resolution, among other areas. Along with the advancements, we bring about continuous improvements in our ink.
We offer inks in 21 standard colors and 50 custom colors. Order-made colors such as corporate colors are also available. We have also succeeded in developing the world's first gold and fluorescent inks for Digital Duplicator.
Ink color variations