High-speed paper feeding system technology
In 1980, there were many Japanese newspaper reports about a new kind of printing technology that could be used like a photocopy machine. This was the RISOGRAPH printer, a fully automatic stencil printer capable of printing high volumes at high speed. As one of the three core technologies of RISO. the high-speed paper feeding system technology developed for the RISOGRAPH has been inherited by the ComColor printer.
Here, we introduce the technology used in high-speed paper feeding systems.
For ComColor
Feeding paper quickly and accurately in order to improve speed and precision
The ComColor printer is equipped with four color 316mm-wide in-line inkjet printing heads arranged in parallel that are capable of printing short-edge A3 width paper with a single pass, and which discharge ink on the paper as it is fed in at high speed.
Since the printing head does not make direct contact with the paper, timing mismatches between paper feeding and ink discharging result in poor printing quality. The world's fastest speed* characteristic of the ComColor is realized thanks to the accuracy of paper feeding.
It is possible to use a finisher with the ComColor that optimizes post-printing processes. With fine control of paper feeding, speed, and timing of processing between printer and finisher, it is possible to handle a variety of post-printing processes such as page printing, booklet printing, in-line sealed mail making, and perfect binding with a single process at high speed.
*

Available on ComColor GL9730. A4 long-edge feed, simplex, continuous printing in standard density setting, and using the Face Down Tray. Based on office color printers commercially available as of September 2021 (Source: Data Supply Inc.)
Paper feeding system technology with high speed and accuracy applicable to complex post-printing processes
High-speed printing without uneven print
Paper feeding takes place using transfer belts that rotate below the printing heads. Since irregularities in paper feeding have a great influence on image quality, it is necessary to synchronize the speed of the transfer belts with ink discharging from the printing heads. By correcting the timing of ink discharging with each line of printing (or each image), uneven print can be reduced, and image quality improved.
Paper feeding to increase productivity
By decreasing the intervals with which printer heads are supplied with paper, it is possible to increase the productivity of high-speed printing. Regardless of the type and size of the paper, the intervals must be kept constant and carefully managed.
For this reason, the ComColor printer uses a number of sensors. The sensors immediately recognize and adjust conditions such as the speed of the rollers, the presence or absence of paper, the presence of overlaps, and it changes in the speed of paper feeding.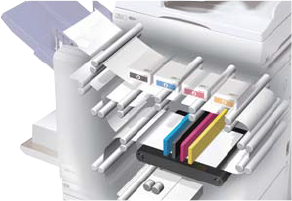 ComColor Paper Feeding Mechanism
Application to more complex paper feeding
The ComColor optimizes a variety of post-printing processes and extends the possibilities of the customer's business. Our products allow complex operations to be handled in a single process: among other options; our "Wrapping Envelope Finisher" automates the process of producing mailers in sealed envelopes from printing to enclosure and sealing; and our "Perfect Binder" enables bookbinding. Though these post-printing processes require the use of paper-feeding technology in complex paths, we made them into a product.
Achieving the world's fastest speed with reliable paper feeding
By using multiple sensors to check the paper feed conditions, adjusting the timing automatically, controlling paper feed to avoid putting a load on the paper, reducing paper feed intervals, and other techniques, ComColor has achieved the world's fastest printing times of 165 sheets per minute for full color simplex printing*, and 82 sheets per minute for full-color duplex printing*.
*

Available on ComColor GL9730. A4 long-edge feed, simplex, continuous printing in standard density setting, and using the Face Down Tray. Based on office color printers commercially available as of September 2021 (Source: Data Supply Inc.)
165 sheet per minute print speed (Inkjet)
For RISOGRAPH
Achieving reliable high image quality at high speeds
Uniform print quality by matching operating speed with print pressure
The RISOGRAPH printer allows the printing speed to be set at several different levels to suit the type of paper used. It is designed to ensure consistent print quality by controlling the quantity of ink transfer and adjusting the pressure of pressure roller: higher for fast printing speeds, and lower for slow printing speeds.
The Digital Duplicator technique employed in the RISOGRAPH printer makes perforations in the master, which is the basis of printing, wraps it around the print drum, and prints images by pushing ink through the master and pressing it onto the paper as the print drum turns.
In order to print at high speed, the paper wrapped around the print drum must be quickly removed and sent to the paper receiving tray. For this, the RISOGRAPH uses a pre-suction mechanism*. A separator is inserted into the fine edge of the paper, and air flowing between the drum and the paper sucks the paper downward. Paper removal is almost instantaneous. It is then possible to apply ink uniformly and produce high quality printed solid area without irregularities.
*Applied to RISO SE Series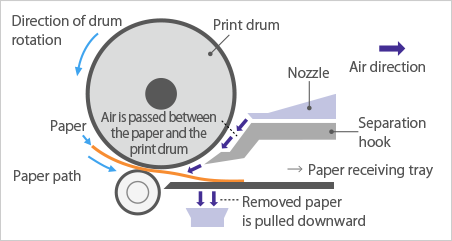 Pre-suction mechanism
Paper is neatly stacked
If the paper can easily be taken off from the printer after the printing task is completed, the user can move smoothly on to the next operation. Therefore, it is necessary to eject the paper in a neat and even way. Using a domino-shaped paper alignment plate on the paper receiving tray with a V-shaped bottom, paper that is ejected at high speed can be organized and output onto the tray in an orderly way.
domino-shaped paper alignment plate
Together with the industry's fastest speed, it is compatible with a wide range of paper types
With RISO's high-speed paper feeding technology, we have achieved incredibly fast printing speed at 190sheets per minute*1 for single-color printing, and 150 sheets per minute*2 for two-color printing at a single pass. Since paper is fed directly from the paper feeding tray to the paper receiving tray in a simple manner, the use of various types and thicknesses of paper is possible, such as thin paper, recycled paper, thick paper, postcards, and envelopes./p>
Paper stacking has been improved even further in order to facilitate post-processing operations such as collating and folding.
*1

RISO SF series, high speed mode, paper feed tray.

*2

RISO MF series
190 sheets per minute print speed (Digital Duplicator)