Printing Process Optimization
RISO created products by showing a high degree of perfection based on the synergistic use of its unique technologies in ink development and high-speed paper feeding system. In realizing improvements in print quality, it is necessary to make consumables that fit the printers they are used with, and vice versa. Technology that is designed to enhance the mutual efficiency of hardware and consumables and optimizes the printing process offers customers convenience in a variety of ways.
Here, we introduce our printing process optimization technology.
Application to the ComColor (Inkjet Printer)
ComColor is a high-speed inkjet printer for office use capable of printing high-volume color documents at high speed and with low cost.
In order to maximize the speed of printing, it uses in-line inkjet printing heads capable of printing short-edge A3 width paper with a single pass and an original oil-based pigment ink developed for high-speed printing.
The combined power of a wide range of technologies like chemistry, machinery, electricity, and software yields a compact size printer designed for office use that has the speed of an industrial printer.
Image processing that suits the special characteristics of oil-based ink
The ComColor uses a color profile that takes account of the process by which ink is absorbed into paper.
Increasing the discharge of ink can improve print density, but may result in illegible fine print, bleeding, or strike through. There are many different types of paper, from uncoated file paper to matte coated paper, each of which has its own special qualities with respect to ink absorption and spreading.
The unique color profile "ComColor Standard" adjusts ink quantity based on the color data and types of paper. This makes clear output printing possible with good color reproduction and less bleeding adjusted to various printing conditions.
Printing head management for a quality printing at high speed
In order to implement high-speed printing with fine image quality, it is necessary to discharge ink droplets quickly and accurately, which requires careful control. We have examined various aspects of the printing process; including evaluation of the flight condition of the ink droplets, the way electrical control is reflected in the printing head drivers, and ink viscosity, surface tension and blending ratios; and how they are combined in order to optimize and stabilize the high-speed printing process.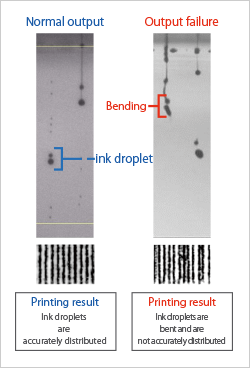 Ink flight conditions
Inkjet printers for home use printing heads that move back and forth and discharge ink droplets along a prescribed width. Unlike this system, the ComColor uses four color 316mm-wide in-line inkjet printing heads arranged in parallel that are capable of printing short-edge A3 width paper with a single pass, printing the entire width of the paper as it is fed in at high speed.
The ink droplets can be set to eight different gradients per color dot. The printer heads spray microscopic ink droplets of 23 microns in diameter from a distance of 1.5 mm onto the paper at a speed of approximately 30 km/h.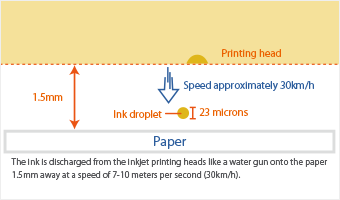 Ink discharging
Achieving both high-quality and high-speed printing
High-speed paper feeding requires rollers with a strong grip.
The rollers hold a paper from above and below and transfer the paper out once printing is completed.
Direct contact between the roller and the printed surface of the paper can result in the transfer of ink onto the roller, and from it to other sheets of paper.
In the ComColor, in order to achieve both high-quality and high-speed printing at the same time, both the ink and the rollers have been improved together.
We have developed an ink that is quickly absorbed into a paper surface and rollers that have surfaces to which ink does not adhere easily.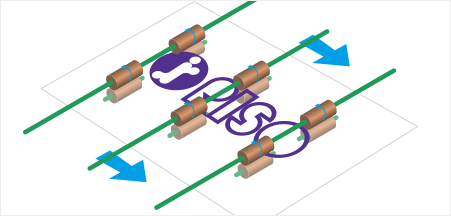 Paper feeding using rollers
Application to the RISOGRAPH Digital Duplicator
The RISOGRAPH is a digital duplicator that combines the core techniques of Digital Duplicator with RISO's unique technologies. It is capable of high-volume printing at high speed and low cost.
It can control the volume of ink transferred to a paper by optimizing the master-making and printing process. We have developed a digital duplicator that is easily used by anyone for high-speed and high-quality from first print in various circumstances.
Realizing consistently high-quality output in various circumstances
Ensuring uniform print quality for use across a range of countries and seasons is an important challenge. At the environmental testing center located in the Riso Research and Design Center, the printing quality of our products is thoroughly tested for a range of environments, which of course include normal office conditions (15-30 degrees Celsius).
In addition, we have enhanced the master-making and printing processes. The RISOGRAPH uses a printing technique that makes an original master by making microscopic holes in the master with thermal heads and passing ink through them to create an image. The thermal heads are fitted with small heat-generating elements arranged in parallel in their substrates; these elements are electrically activated on the basis of the data to be printed, and thereby make microscopic holes in the original master. Ink has the property of softening in hot conditions and hardening when it is cold. In order to ensure uniform printing quality despite changes in ink properties, the thermal heads are automatically controlled electronically to open the holes at a microscopic scale.

Master making (thermal heads and master)
Print drum that spreads ink evenly and controls its transfer
The RISOGRAPH print drum includes a mechanism that uses ink viscosity to supply ink of a uniform quality.
Ink from the ink bottles inside the print drum is extruded onto the squeegee rollers to create a pool of ink, which is automatically maintained at the proper quantity.
The outer surface of the print drum is covered with a plate cylinder, which is covered with many holes, and two mesh screens. Ink is supplied to the perforated master evenly using this mechanism.
The paper fed in at high speed is pressed from the bottom of the drum to transfer a proper volume of ink to the paper, allowing clear printing with less offset.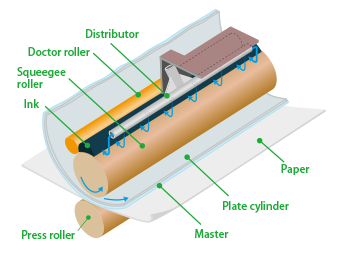 Multi-layer structure of the print drum
Clear output without fading or uneven printing
When a printer is not used for a long time or when it is used in a cold place, the ink quality may change, which can result in fading or uneven printing. The RISOGRAPH is fitted with an auto-idling function that eliminates inconsistencies in printing environments. This function keeps the ink in the print drum fresh and allows the printing quality to remain high.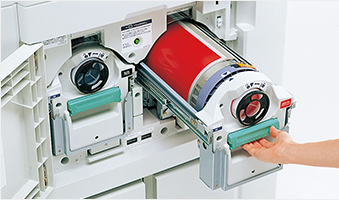 Print drum inside the RISOGRAPH
Flexible support to printing needs for various types of papers
The RISOGRAPH features a direct paper feed and ejection mechanism, which means that paper feed pressure can be easily adjusted. It supports printing needs for various types of papers, such as thin paper, recycled paper, thick paper, postcards, and envelopes.
Further, since printing is done by applying pressure with press rollers, high-quality images can even be printed on paper with rough surfaces.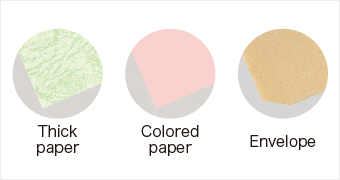 Various kinds of paper