HOME > Corporate Profile > RISO's History
RISO's History
Please find here RISO's history. You will know how RISO developed its business from a mimeograph printing service provider to a printing equipment manufacturer pursuing the "ideals" described in our corporate name.
1946 - 1954 - Start-up Stage -Foundation- Pursuing the ideal in the Company name "RISO"(RISO means "ideals" in Japanese)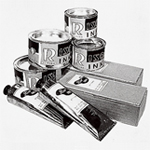 Sep., 1946 … The founder Noboru Hayama began mimeograph printing
service under the business name "RISO-SHA" in Setagaya, Tokyo, Japan.

Sep., 1948 … Changed the business name to "RISO PRINTING" and opened a
mimeograph printshop in Nihonbashi, Tokyo, Japan.

Mar., 1952 … Started typed-character print service using the electric
typewriters and printing machines which were first brought to
Japan from UK.

Jun., 1954 … Developed and launched RISO INK (emulsion ink first sold in Japan).



1955 - 1974- The 1st Growing Stage -Incorporation of the Company -We shall win through honesty and creativity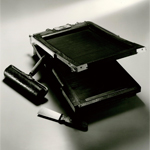 Jan., 1955 … Dissolved "RISO PRINTING" and incorporated the company
"RISO KAGAKU LAVORATORY LIMITED."

Dec., 1958 … Launched the RISO-GRAPH (a mimeograph printing device).

Jan., 1963 … Changed the name of the company to "RISO KAGAKU CORPORATION".

Jul.-Aug., 1965 … Established "Kasumigaura Plant" and started production there in August.

May., 1967 … Launched the RISO FAX JF-7 (a thermal stencil master making device).

Aug., 1968 … Moved the head office to Shimbashi, Tokyo, Japan.

May., 1969 … Launched the RISO FAX JF-8

Jun., 1969 … Opened local sales offices in major domestic cities, such as
Sapporo, Sendai, Nagoya, Osaka, Hiroshima and Fukuoka, to expand sales in Japan.

May., 1972 … Launched the RISO TRAPEN-UP TU-230 (a thermal film making device for OHP)
and the RISO OHP 750.

Feb., 1974 … Launched the RISO XENOFAX FX-150 and the RISO XENO MASTER.


[Note]
The product release dates given in the above chronological table are only applicable in Japan.