HOME > Corporate Profile > Side Story
Side Story
Aiming to Realize the Company Name RISO, Meaning "Ideal"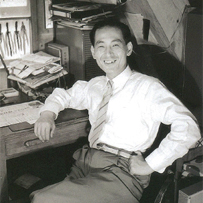 The history of RISO began with a single mimeograph printing device on the birthday of founder Noboru Hayama on September 2, 1946. At the end of World War II, he had entered Nihon University. He had to raise the money for both educational fees and family finances all by himself, and so that's why he chose the mimeograph printing industry as his occupation.
Hayama believed that "people should not lose their ideals because then there would be no future for Japan as a nation. Thus, we must always pursue our ideals to ensure the future." He reflected this conviction directly into the company name and founded "Riso-Sha," meaning "ideal." After approximately 18 months, Hayama completed the development of Japan's first emulsion ink, RISO INK. This was the first step toward becoming a manufacturer of printing equipment.
Launch of World Unique PRINT GOCCO and RISOGRAPH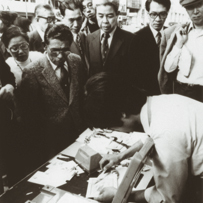 This period saw RISO reap the rewards of efforts in development and take a major stride forward as a comprehensive manufacturer of stencil printers. During this time, RISO created a series of fundamentally unique products for the home and the office. In 1977, RISO launched PRINT GOCCO for home use. This product recorded explosive sales soon after its release and by the end of the year had become a huge hit. RISO also developed the RISOGRAPH, an all-new printing system for the office based on original duplicating technology. It has continued to lead the field since its debut in 1980.
In 1984, RISO introduced the RISOGRAPH 007, which integrates all functions required for mastermaking and printing into a single unit. This product created a stir at the time and came to be known as a "printing robot" capable of realizing large-volume print jobs at high speed and low running cost while being easy to use.
Delivering RISO's Products to Customers around the World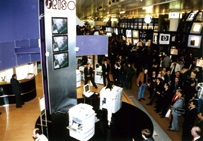 Beginning in 1986 with the establishment of RISO, INC. (U.S. state of Massachusetts), RISO made its first foray into overseas markets in different parts of the world and created a sales network. Thereafter, RISO set up a series of sales bases around the world. Now with more than 20 subsidiaries, the Company is operating at a truly global level.
In terms of production, in 1999 RISO started operating its first plant overseas in Zhuhai City, Guangdong Province, in China. Subsequently, operations of plants commenced in Shanghai and Shenzhen in China as well as in Thailand. This signaled the establishment of a true global production structure.
Currently, RISO markets and provides technical support for ComColor, RISOGRAPH and other products as well as supplies consumables in over 180 countries and regions of the world.
Challenging New Solutions to Make Color Printing Even More Accessible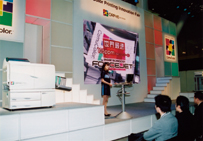 In 2003, RISO launched a new generation of business printers that carved the way for a new market, the RISO HC series of high-speed color printers. These printers were developed to make color printing economical and more accessible than before. These unique RISO printers realize fast, cost-effective color printing. In 2009, we launched the ComColor series of next-generation high-speed printers. We are constantly pursuing new and bigger possibilities. RISO continues to seek even greater challenges as a development-oriented company that provides unique solutions in the paper communication field.
Demonstration of PRINT GOCCO around the time of launch. It attracted the interest of both children and adults alike.