HOME > Products > ComColor FT series > Advantage 2 : Productivity
Advantage 2 : Productivity

Enjoy enhanced time efficiency, optimized TCO, and consistently high quality that only RISO can deliver.
High speed, high productivity

First print time of less than 5 seconds
1,000 sheets in only 7 minutes
High reliability

Simple inkjet mechanism is durable and requires few replacement parts
Low maintenance
High usability

Intuitively designed user interface
90-degree tilt panel for easy viewing
Heatless printing process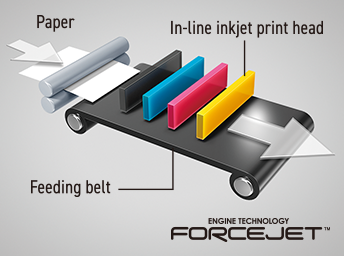 RISO's proprietary technology features in-line Piezo inkjet print heads which make possible single-pass full-color printing without generating heat.
Reduces energy, emissions
RISO inkjet printers do not generate heat during printing, nor do they generate ozone like toner printers.
Increases speed, efficiency
Oil-based ink is fast drying so paper doesn't curl, allowing you to move quickly to post-print processes.
Stationary print heads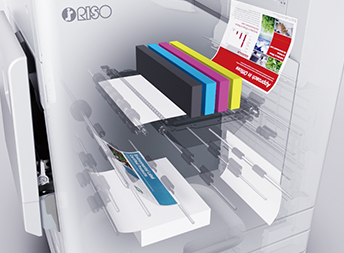 Stationary print heads make possible stable, high-quality printing even at high speeds. And the simple paper feed mechanism enables printing on various types of paper.
Why inkjet?
Inkjet printing is more nature-friendly than laser printing, and still delivers excellent quality when printing in full color. And RISO technologies have also supported the advancement of high-volume industrial printing.
Why oil-based pigment ink?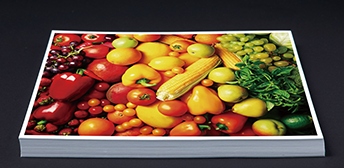 Oil-based pigment ink enables flat, cold, dry output.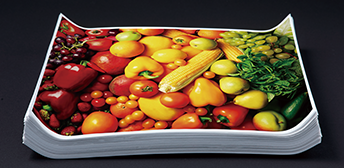 Water-based inks are prone to
deformation such as rippling and curling.
It offers superior fading and water resistance, as well as strong resistance to bleeding. And, as it is fast-drying, paper rarely gets dirty or rippled - even during high-speed printing - enabling smooth high-speed duplex printing and transition to post-print processes.
High cost efficiency

Proprietary ink and color profile development enable high quality at low running cost
Short printing time means reduced labor and electricity costs
High image quality

Piezo drop-on-demand print heads
Fast-drying oil-based ink for minimal bleeding and smearing
New, higher black density improves visibility
High media flexibility

46gsm-400gsm
(when optional accessories attached)
ComColor standard - high color quality
RISO developed its own intelligent color profile to maximize color reproduction and minimize bleeding. ComColor Standard assesses the color data and paper type, and adjusts the volume of ink applied based on the paper's absorption characteristics.