HOME > product > RISOGRAPH's environmental performance
RISOGRAPH's environmental performance
Digital duplicator the "RISOGRAPH" consumes minimal power even for A3 size printing
The RISOGRAPH is a stencil printing style digital duplicator. It works by piercing a printing stencil plate with holes and passing ink through the holes to transfer an image onto paper.
The maximum power consumption is 300 W*1 even for A3 size printing.
Compared with a photocopier that applies toner sheet by sheet using heat, the RISOGRAPH can perform large-volume printing with less power consumption.
*1:

For the SF series. Numerical values vary depending on the printing environment.
Rice ink using rice bran oil (black)
RISO adopts rice ink (black) using rice bran oil. Because we use rice bran from domestically produced rice, the transport distance of the raw materials necessary for ink production is shorter than soybean oil ink using mass-imported soybeans from overseas, and transport-related CO2 emissions are greatly reduced. In addition, rice ink does not easily deteriorate over time, reducing alteration of printed parts, and extending the recommended expiry date.
Rice ink (RISO ink F type black) has acquired the "Rice Ink Mark" and "Vegetable Oil Ink Mark".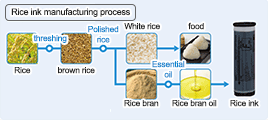 Rice Ink Mark
The logo data of the Rice Ink Mark can be downloaded by accessing the Rice Ink Consortium website (http://www.riceink.jp) subject to your agreement to the "Rice ink usage rules."

Vegetable Oil Ink Mark
The logo data of the Vegetable Oil Ink Mark can be downloaded by accessing the Japan Printing Ink Makers Association website (http://www.ink-jpima.org) subject to your submission of the "Vegetable oil ink mark license agreement."

*

Rice ink is only available in black. The Vegetable Oil Ink Mark is applied to color inks only.
Eco mode that can print with reduced power consumption
The RISOGRAPH features an "Eco Mode" that enables printing with reduced power consumption by lowering the brightness of the LCD panel and press pressure compared with normal printing operation. When set, it reduces energy consumption by about 2%*1.
*1:

Actual value based on the measurement standard specified by the Green Purchasing Law*2 *3 *4.

*2:

For SF935, 14.3 W/h when the printer function is activated / 12.2 W/h when inactive.

*3:

For SF635, 14.4 W/h when the printer function is activated / 12.1 W/h when inactive.

*4:

For SF 625, 14.9 W/h when the printer function is activated / 12.8 W/h when inactive.

*5:

For SF 525, 14.2 W/h when the printer function is activated / 12.2 W/h when inactive.
*

Depending on the measurement environment and machine-to-machine differences, values may vary by ± 2.0 W/h.
Print with low energy consumption
Since the RISOGRAPH does not use toner, it does not need a heater for applying the toner with heat. It can be used immediately after turning on the power, and power consumption is kept low. Also, because RISO GRAPH prints at high speed, the duration of electricity usage is shortened. In addition, RISOGRAPH comes with an energy-saving mode with features such as "Auto shut off function," which automatically turns off the power after a certain time period, and "Auto sleep function" which automatically puts the device into hibernation while the power is turned on.
Equipped with ink saving mode
By setting RISOGRAPH to "Ink Saving Mode," it is possible to reduce the amount of ink used by approximately 20%*1while keeping the required print quality (except when printing out data originals).
*1:

Ink saving depends on various conditions such as print mode and material to be printed.
Collection and recycling of used ink bottles
Used ink bottles are sent to a resin recycling plant where they are processed into raw material for re-use in plastic products after removing foreign matter. The recycled material is used for products such as ink bottle caps. Materials that cannot be recycled are used for recycled fuel, etc.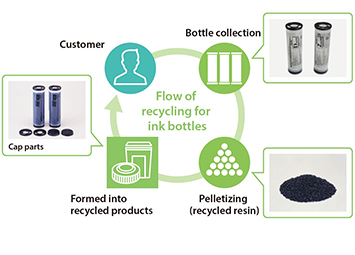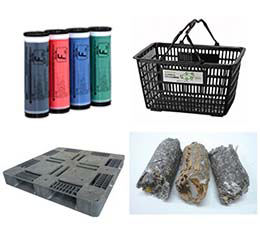 Conforms to certification marks and environmental labels
Acquire the Color Universal Design Certification
The RISOGRAPH is certified by the NPO Color Universal Design Organization that parts related to operation such as the operation panel and main body display are designed to consider individuals' differences in color vision to ensure the product is easy to use for as many people as possible.

Eco Mark certified product<Main body>
The RISOGRAPH is certified with the "Eco Mark" issued by the Japan Environment Association. This label indicates that the product is recognized as being useful for environmental conservation and puts less burdens on the environment throughout the product lifecycle.

Conforms to the International Energy Star Program<Main body>
As a company participating in the International Energy Star Program, we have judged that this product meets the criteria for products subject to the International Energy Star Program.

Conforms to the Green Purchasing Law<Main body>
RISO meets the criteria for specified procurement items of the Green Purchasing Law (Japan's Act on Promotion of Procurement of Eco-Friendly Goods and Services by the State and Other Entities). We contribute to reducing environmental burdens by designing for energy saving and supporting recycling.
Conforms to European RoHS Directive
RISO complies with the European RoHS Directive restricting use of specified hazardous substances from production to disposal of products.
*

These are Japanese certification marks and environment labels.