RISO COLLATOR TC7100

High-speed process to collate up to 70 sets per minute.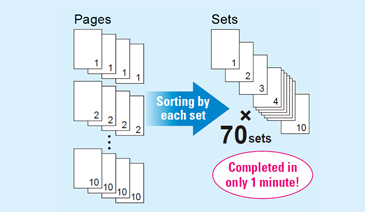 In case of 10 pages of A4-size documents, the machine collates up to 70 sets of paper sheets in only one minute.
Each paper bin can accept up to 350 sheets of paper.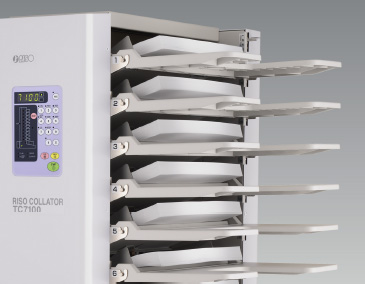 The machine handles paper in various sizes ranging from a postcard size to an A3+ size.
Because each paper bin can accept up to 350 paper sheets in one time, even large volume of paper can be collated efficiently.

Alignment the paper edges precisely.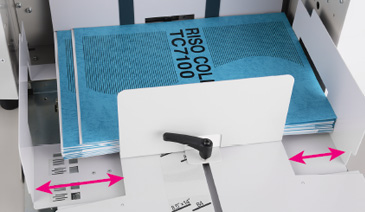 Using the horizontal slide mechanism, the machine can sort documents smoothly and align the paper edges precisely.
You can significantly reduce the time and labor for sorting.
A panel on the machine shows paper feeding condition.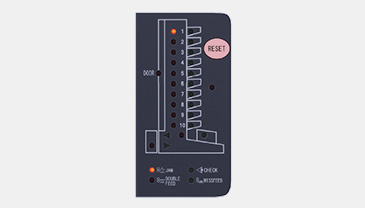 The sensor always monitors errors such as paper jams, multiple feeding and unloaded feeding, and shows the place and details of the error with the light.

Alternate mode for more than 350 sets of documents, Insert mode for partitioning sheets.
In the alternate mode, neighboring two bins are used together for the same sheet to produce more than 350 sets of documents that have 5 or less pages in one operation. In the insert mode, partitioning sheets are inserted between a designated numbers of collated sets.
TC Staple Punch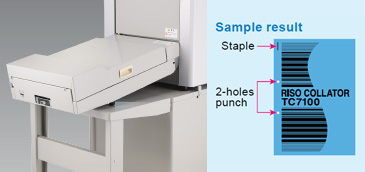 The optional TC Staple Punch Unit can be attached to the tower. Where producing 11 collated sets of 10 A4 paper in long-edge feeding, process from collation to stapling and 2-hole punching can be done automatically in only one minute or less.
*Picture: A collator combined with the optional RISO Collator TC Stand II and the optional TC Extension Stand.

TC7100 Specifications
number of bins
10 bins
Paper size
Maximum: 328 x 469mm (12.9"x18.5")
Minimum: 95 x 150mm (3.8" x 5.9")
Paper weight
52gsm (14-lb bond) to 157gsm (87-lb index)*1
Bin capacity
28mm, 350sheets of 64gsm(17-lb bond) paper
Collating speed
2 levels (70 or 40 sets per minute for A4 long-edge feeding)
Stacking mode
Off-set Stacking or Straight Stacking
Job mode
Normal mode/Alternate mode/Insert mode/Repeat mode
Detecting functions
Empty feed, No paper, Paper jam, Double feed, Receiving tray full, Paper eject jam, Back door open, Option error
Operation panel
4 digits LED counter
Receiving tray capacity
75mm
Power source
100-240V AC, 50/60Hz <2.0-1.2A>
Power consumption
Maximum: 120W
Dimensions (WxDxH)
690mm x 540mm x 1,060mm (27.1" x 21.3" x 41.8")
Dimensions (WxDxH) with anti-fall plate
885mm x 540mm x 1,060mm (34.9" x 21.3" x 41.8")
Weight
79.7kg (175.7lb)
*1:Up to A3 size.
Notes: Please note that due to improvements and changes to the machine, some images and explanations in this leaflet may not correspond to your machine. Specifications are subject to change without prior notice.
TC Staple Punch Specifications

Compatible model
RISO COLLATOR TC7100
Paper size
A3, B4(JIS), A4, B5(JIS)
Paper weight
52gsm (14-lb bond) to 128gsm (34-lb bond)
Productivity
With staple and punch: 11 sets per minute for A4 LEF
With staple : 14 sets per minute for A4 LEF
Staple
1 corner
Punch holes
2 holes at the center of the feeding edge
Diameter 6mm, Pitch 80mm
Power source
100-240V AC, 50/60Hz <0.3-0.2A>
Power consumption
Maximum: 19W
Dimensions (WxDxH)
1,315mm x 540mm x 1,060mm (51.7" x 21.3" x 41.8")*2
Weight
19kg (42lb)*2
*1: Including RISO COLLATOR TC7100