HOME > Products > Inkjet Printer > ComColor GL Series > Highly Intuitive
Highly Intuitive

Color LCD Panel
The operation panel is a nine-inch color LCD touch screen for direct operation by touching functions and swiping screens.
Tilt Positioning

A quick tilt of the screen makes for optimal viewing and convenient operation by anyone at any time.
Multiple Menus Provide Quick Access to a Variety of Tasks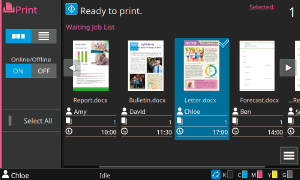 Users can pre-set favorite settings, which can be accessed from any mode.
Setting details can be confirmed via the displayed icons. Order of functions can be changed at will.
In addition to a list, a thumbnail view can be accessed in order to check images on the screen.
Up to nine shortcuts of [Favorites] can be registered.
High-speed scanning and copying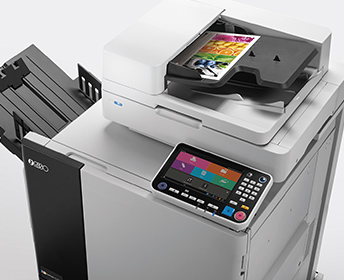 RISO GL Series printers makes every aspect of your work fast and easy. Perform scanning at 100 ppm and copying at 80 ppm via an intuitive control panel. Save print and copy data in a folder in formats such as TIFF, PDF, and JPEG. Merge larger scanning jobs separated into chapters or sections into one. And enjoy form composing capability with either ComColorExpress FS2100C or PS Kit FG10.
Scanning Preview
The image can be checked before saving scanned data.
Additional Copy
Same as for printing out, copy data remains in the ComColor GL Series, so additional copies can be made without reloading using originals*.
* Setting by Administrator required.
Scan-to-Mail (START TLS support)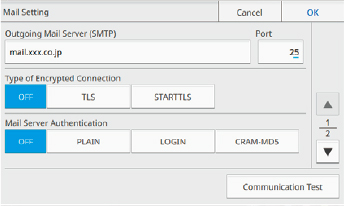 START TLS is added for encryption setting to support Office365 mail server in e-mail setting.
Acquire LDAP Mail Address
Connecting to an internal directory with LDAP authentication ensures quick configuration for a large number of users. On login, the user's mail address is automatically retrieved, saving a setup step.
Address Book
Increased functionality and operability lets individual users add and select up to 30 addresses, or add up to 300 common addresses that can be accessed by all co-workers.