HOME > Products > Inkjet Printer > ComColor GL Series > Productivity
Productivity

Record-breaking Speed at
165 ppm

, Literally the Fastest in the Industry

Regardless of the number and types of images or volume of text, full-color images remain true to the original. For text-intensive documents, words remain crisp and easy to read.
Super High-speed Printing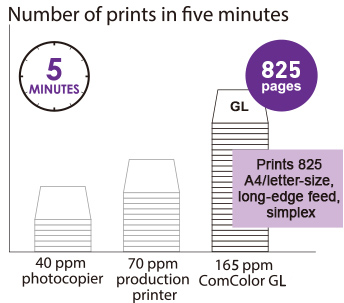 Single-pass full-color printing of up to 165 A4 long-edge feed color pages per minute with fast-drying oil-based pigment ink is possible through a unique print engine configured with static inline inkjet heads arranged in parallel. Transactional prints, transpromotional materials, invoices, and other routine business documents are also fast.
The FORCEJET Advantage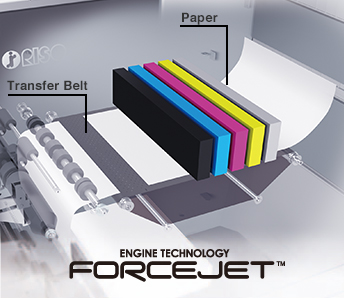 RISO's high-speed inkjet technology, FORCEJET, consists of wide, color, in-line inkjet print heads arranged in parallel for single-pass printing of black, cyan, magenta, yellow and gray on A3/Ledger short-edge feed paper. Fast printing functionality combined with a rapid and stable paper supply results in a print speed of 165 pages per minute for A4 long-edge feed, in simplex literally the fastest*1 in the world.
*1:

A4 long-edge feed, simplex, continuous printing in standard density setting, based on office color printers using cut sheet commercially available as of September 2021 (Source: Data Supply Inc.).
Stabilized Paper Feed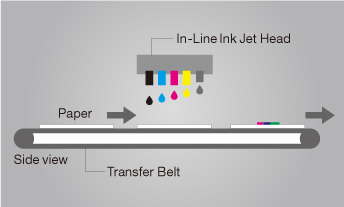 A straight-path feeding system feeds paper horizontally to enable high-speed printing with minimal print offset. FORCEJET technology ensures optimal paper feed speed that is matched to the amount of ink being sprayed from the ink heads.
High-speed Printing Ink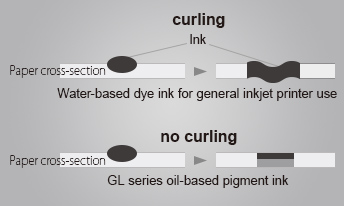 Special quick-drying, oil-based pigment ink developed exclusively for the ComColor GL Series prevents reverse-side staining of printed paper as well as cockling, to allow for unprecedented high-speed duplex inkjet printing. The ink is also resistant to degradation from light and water.
Consistent Output Quality
The ComColor GL Series offers higher image quality and consistent printing results through RISO inkjet technology that features a Piezo system, which ensures stable output by controlling and regulating the amount of ink deposited on the paper.
Large-capacity Trays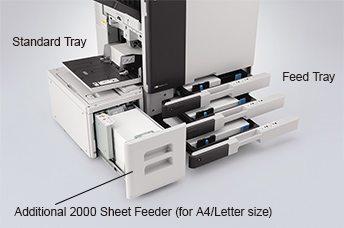 By loading the same-size paper into three feed trays and one standard tray, over 2,500 Sheet*2 can be fed into the printer, and paper can be replenished without halting the print job. Various sizes of paper can also be loaded.
When connecting the Additional 2000 Sheet Feeder (for A4/Letter size), which is an optional accessory, over 4,500 Sheet*2 of A4 size paper can be fed.
*2:

When using plain paper or recycled paper (85 gsm (23-lb bond)).
A3 full-size Printing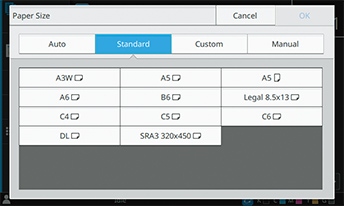 The ComColor GL Series accommodates paper sizes ranging up to 340 mm x 550 mm*3. The maximum print area exceeds A3/Ledger size, at 314 mm x 548 mm.
SRA3 is pre-registered as a standard paper size. Pre-registration optimizes transport speed for SRA3, a custom paper size.
*3:

When the standard tray is used.
Cards, Envelopes and other Paper Types
The ComColor GL Series require no heat when printing, which prevents paper curling and reduces paper jams. Smooth feeding of cards, envelopes and more is possible using the standard tray.

High-volume Ink Cartridges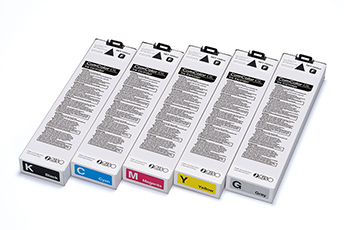 Each high-volume color ink cartridge holds 1,000 ml of ink. One cartridge can be relied upon for printing a large quantity of copies without requiring replacement.
Small Footprint, Big Output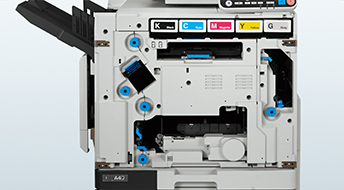 The ComColor GL Series, which features a small footprint that makes it the ideal choice for all types of work environments, ensures high levels of productivity. Exceptional reliability in the face of consistent high-volume print jobs meets the specified demands of production and transactional printing industries. Diamondcoated rollers supported by ball bearings, as well as other redesigned components, improve durability over the lifespan of the printer.