HOME > Products > ComColor FW series > Advantage 2 : Superb efficiency for high volume printing
Advantage 2 : Superb efficiency for high volume printing

Low-cost color printing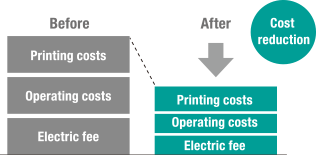 ComColor Standard - RISO's original color profile - accurately controls the amount of ink ejected from the print head depending on document type and media. This maintains image quality and optimizes ink usage, ultimately lowering operating costs. Short print runs can now be performed inexpensively and efficiently in-house.
On-demand, full-color printing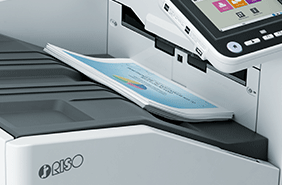 White paper solution decreases waste, as it allows printing on-demand as and when required. ComColor FW series also supports variable-data printing, eliminating the need for pre-printed stock. Less outsourcing shortens turnaround time and lets you make last minute changes to documents.
Intelligent design for flexibility and efficiency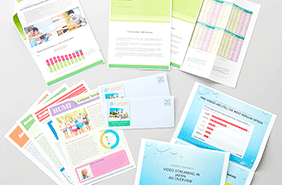 A simple paper-feed mechanism with no heating function supports a wide range of media, from plain paper and envelopes to cards. Paper is less likely to curl as no heat is applied during printing, thereby minimizing paper jams. Operation time can be reduced for long print runs by inserting slip sheets to facilitate sorting, add covers and program printing.
The energy-efficient printing process offers smooth, economical operation. Unlike toner-based printers, Comcolor FW series employs an imaging process that eliminates ozone and toner emissions.
More energy-saving functions
Power schedule mode
This function allows you to automatically turn on and off the power of the machine at a specified time. Up to 10 sets of combinations of start or end time and day of the week can be registered. Never worry about forgetting to tum the printer off after working hours or over the weekend.
Sleep mode
Set when the printer enters sleep mode after the last print job to further decrease power consumption. This mode keeps power consumption to a miniscule 4W, further enhancing savings on electricity bills.
Save paper
Image Repeat and Combine
Combine multiple copies of the same page or multiple sheets onto a single printed to save paper. This conveniently condenses bulky, multi-page documents into an easy-to-read format.

Blank Page Detection
Also, when required you can automatically omit blank pages in documents, saving both time and paper to further reduce running costs.