HOME > Products > ComColor FW series > Advantage 1 : High productivity for any workplace
Advantage 1 : High productivity for any workplace

High-speed printing at 120 ppm
The amazingly fast print speed of 120 ppm in full-color allows ComColor FW series to significantly quicken high-volume print jobs.
Print Time for 1,000 A4-size Sheets (A4/letter-size, long-edge feed simplex, full color)

Duplex printing shares this efficiency, reaching up to 120 ppm. Thanks to high-precision paper-feed control, ComColor FW series prints at the same speed for both simplex and duplex documents to boost productivity. The responsive first print time of only 5 seconds means less waiting for both short print runs and high-volume jobs.
The optional one-pass duplex scanner drastically enhances processing speed for scanning. You can load up to 200 sheets for quick scanning and copying of large documents.
Compact design to fit any workplace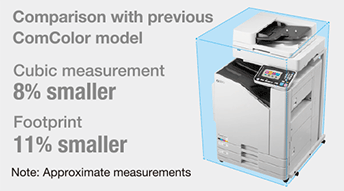 The compact print head and tray-free design make for a small footprint, allowing installation of ComColor FW series almost anywhere.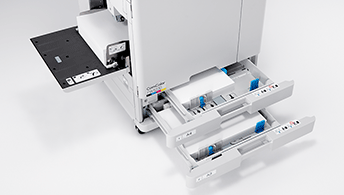 Two paper-feed trays are easily accessible and hold 500 sheets* each while the standard tray handles 1,000 sheets.* This equals a paper capacity of 2,000 sheets* in a slim body.
ComColor FW5231 has standard tray only.
* When using plain paper or recycled paper (85 gsm (23-lb bond))
Reliability
The RISO inkjet advantage – FORCEJET technology
Your assurance of quality and reliability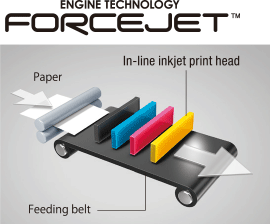 Instant-drying ink complements the high-speed, duplex printing capability. This specially developed, oil-based ink is also fade-resistant and water-resistant, and minimizes paper curling.Stable paper feeding ensures the reliable performance necessary for high-speed printing. Paper-feed speed is intelligently controlled according to how much ink is emitted from the print head. Also, multiple sensors help ensure high levels of reliability.
Durability
Tough body for reliable operation
High-speed, high-volume printing requires a durable body. ComColor FW series is tough enough to print millions of sheets.