HOME > Products > ComColor FW series > Advantage 3 : Excellent usability for every work environment
Advantage 3 : Excellent usability for every work environment

Designed for simple operation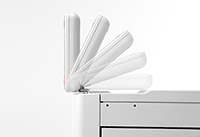 An easy-to-view touch panel with instantly recognizable color icons makes printer operation simple for anyone. The tilt panel ensures excellent viewing at any angle up to 90 degrees, expanding installation flexibility. Scan preview windows show scanned images before saving data, ensuring less scan failures. For added convenience when printing and copying, frequently used functions can be saved as Favorites.
Expanded usability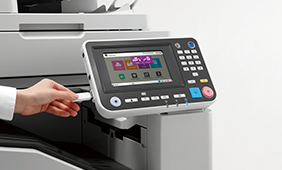 The optional PS kit supports a variety of operating systems, and PDF files can be printed directly from USB flash drives, while RISO Print-S application allows printing from smart devices. ComColor FW series offers reliable support for any work environment.
ComColor functions and output modes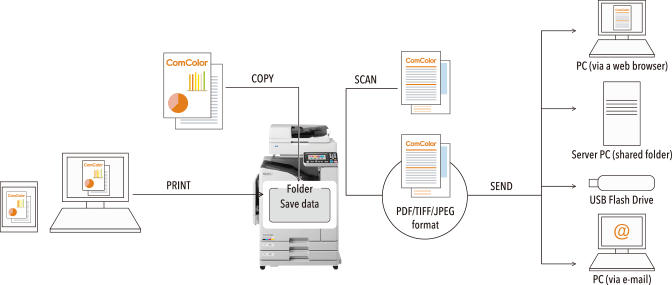 Useful scanner functions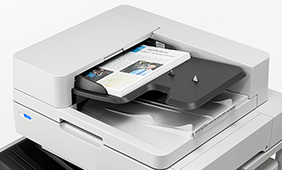 The optional Scanner HS7000 can save scanned data over the network to a PC, as an attachment to e-mail, or onto a hard disk of a networked RISO machine.
Multi-page documents can be saved in PDF format as either separate files or combined into one file. Documents can be saved as PDF, TIFF, JPEG and PDF/A (suitable for long-term storage) formats.
Easy management for administrators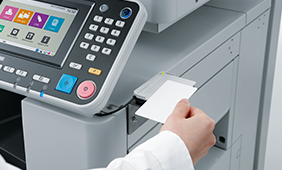 Up to 1,000 users can be registered. Connecting to an internal directory with LDAP authentication ensures quick configuration for a large number of users. The optional IC Card Authentication Kit enables user management using an IC card. Other maintenance tasks can be performed simply and speedily.