HOME > Products > ComColor > Quality First
Advantage 3:Quality First

Built-in Quality and Flexibility, and Enhanced Color Reproduction Features
Taking Quality to a Higher Level
The ComColor GD series is engineered with features that ensure stable output quality for consistent printing results at high speed, including a Piezo system that regulates ink amount. Black image quality has been improved by installing a newly-developed print head and black ink. Additional inks enrich the look of images and enhance overall color quality.
This unique RISO technology and approach to the printing process brings the added benefits of a low total cost of ownership when compared with toner technology, and greater control over cost management. It also enables practical migration away from simply highlight color or mono production to a cut sheet white paper solution. This provides genuine added value, as it eliminates the need to hold large volumes of pre-printed stock and opens up possibilities for a leap forward in color printing.
Consistent Output Quality
The ComColor GD series offers higher image quality and consistent printing results through RISO inkjet technology that features a Piezo system, which ensures stable output by controlling and regulating the amount of ink deposited on the paper.
Best Black Density
A newly-developed 600 dpi print head for black with special black ink supported by gray as a fifth ink delivers top quality, 10% higher black density than ever.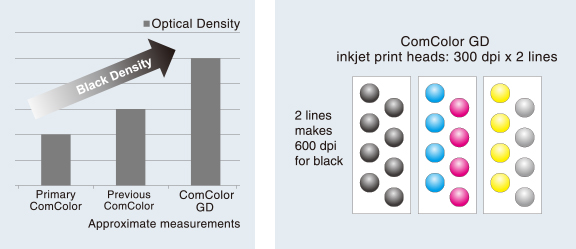 Enriched Color Images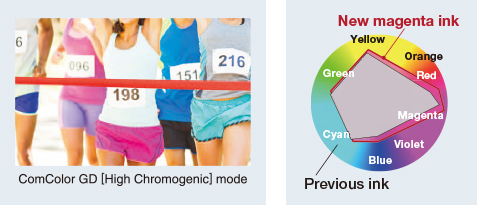 Newly-developed magenta ink significantly improves full-color image quality by expanding the color gamut.
Optimized Gradations
The fifth color, gray ink in combination with black ink, is applied for higher quality gradations, which contributes to denser blacks, suppression of roughness, and improved color reproduction and stability.
Denser Blacks

Use of a special gray ink in combination with black ink diminishes light reflection on the paper to result in a denser black saturation on the page.
Roughness Suppression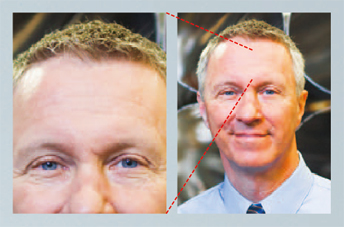 For color printing, application of the gray ink in addition to CMY inks reduces graininess for smoother results.
Improved Color Reproduction
For color printing, application of the gray ink in addition to CMY inks, colors are accurately reproduced with finer gradation, for richer colors on the page.
Improved Color Stability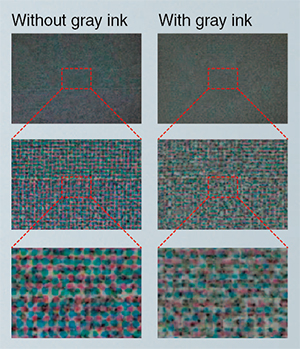 For printing of gray areas, application of the gray ink in addition to CMYK inks result in more stabilized grays, reducing the instability of dot alignment of color registration.