HOME > Products > ComColor > Performance Scalability
Advantage 5:Performance Scalability

Optimum Versatility with Optional Accessories for Productive Printing
High Capacity Feeder/Stacker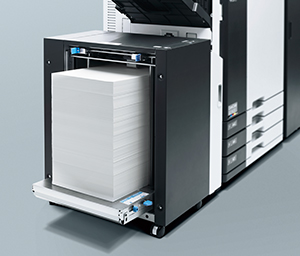 The High Capacity Feeder and High Capacity Stacker step up the printing capacity of the ComColor GD series to 4,000 sheets* without replenishing the paper. A wider range of print jobs is possible through thicker paper and envelopes, as well as A3/Ledger-size paper.
* Height up to 440 mm (17-11/32")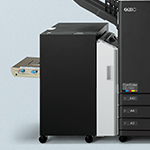 With use of multiple trays, the High Capacity Feeder allows 5,500 sheets of paper to be loaded for continuous feeding. Maximize the benefits of highspeed printing with uninterrupted, highvolume print runs without pausing to reload paper.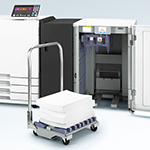 During the step after printing, the High Capacity Stacker can be set to stack face up or face down. The sets are stacked so that they are offset. This option allows stacking of larger output volumes with reduced user intervention. Convenient removal and transport of the printed output is possible using the High Capacity Stacker Cart.
Wrapping Envelope Finisher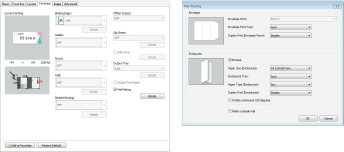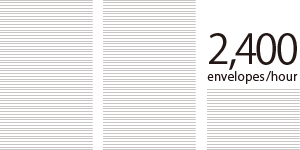 Wrapping Envelope Finisher*1 is a unique RISO mailing solution which is the industry's first complete in-line print-to-mail solution engineered for high-volume output for professional productivity. Print and insert up to six A4 pages (depending on weight), simplex or duplex, which are automatically wrapped and sealed in the envelope in a single pass, ready for posting.
*1 Wrapping Envelope Finisher is compatible with ComColor GD9630.
Speeds of up to 2,400 for single page insert*2 fully wrapped and sealed mail pieces per hour are possible. Can be used with most third party postal software to print messages, logos, addresses, postal barcodes on envelopes.
*2 A4 size simplex printing.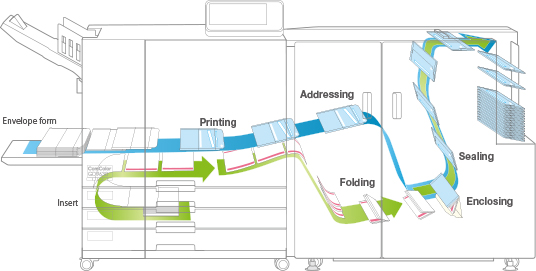 Perfect Binder


Perfect Binder increases productivity by dramatically reducing operator intervention and allowing for production of sixty-two 100-page duplex A4 sized books, printed and bound, in an hour, accommodating varying book thicknesses up to 600 pages, and handling binding from 1.5 mm to 30 mm (approximately 15 to 300 sheets).

RISO Perfect Binder Software is compatible with Adobe PDF and Microsoft Office file formats to simplify cover design, including spine printing and print preview functions, for an efficient pre-print process. Book covers are automatically and individually trimmed to size and thickness for a professional wrap-around finish.
Perfect Binder offers securely bound printed pages by means of a high-pressure gluing process. RISO registration technology assures that pages are in order and aligned when they reach this critical point. Use of the glue roll helps reduce overall power consumption and a reduction in waste compared to traditional hot-glue-pot methods.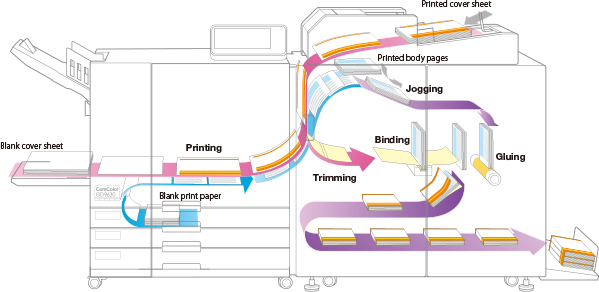 Multifunction Finisher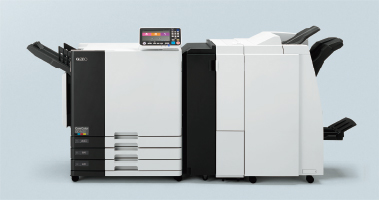 A versatile finisher that saves time by automatically stapling, punching holes, and folding.

Folder Unit
An optional Folder Unit further enhances versatility.