GOCCOPRO Series Digital Screen Maker

Features of the GOCCOPRO Series Digital Screen Printing Machine
No screen making experience required
Work directly from computer to screen
Eliminates steps like exposure and drying

No need for darkrooms and washout booths
No need to store large number of screens

Perfect for short-run printing and test production
Otherwise outsourced jobs can be profitably performed in-house

No need for emulsions and washout
Dry screen making process with thermal screen technology

The GOCCOPRO QS200 live action at ISS Long Beach 2014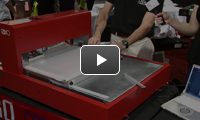 The first official appearance of a new model of the GOCCOPRO series at one of the largest trade show dedicated to the decorated apparel industry.
Watch live action of our new screen maker which is A2 wide size and capable for multi color printing.
How to operate the GOCCOPRO 100

To view the above Flash contents, you need to have Adobe Flash Player installed on your computer.